Born to Sudanese and Scottish parents, Eliza Shaddad is a descendent of a long line of artists and poets dating back to the 1800s. Eliza's great great grandfather was James Paterson, one of the Glasgow Boys – a group of artists challenging the style and subject of late Victorian Scottish painting.
After a previous EP that hit critical acclaim receiving airplay across BBC Radio 1, 2, 6 Music, BBC Radio Scotland, XFM, Amazing Radio, KCRW, and strong support from The Sunday Times, The Line of Best Fit, Clash Magazine, i-D Magazine, and The 405, Eliza Shaddad returns with follow up EP, Run, slated for release early 2016, preceded by lead single, Wars.
Wars builds on songs from the Waters EP (which has notched up nearly 400k streams on Spotify since its release in summer 2014) with a much fiercer overall sound. While also harnessing elegant, nimble and bitter-sweet characteristics, Wars washes over full of conviction and flashes of vitriol.
Mercury Prize nominee Chris Bond is once again at the helm of the production but is joined by Catherine Marks (Wolf Alice/Foals) on mixing duties and John Davis (Blur/FKA Twigs/Royal Blood) on mastering to give the record a grittier and more expansive sound.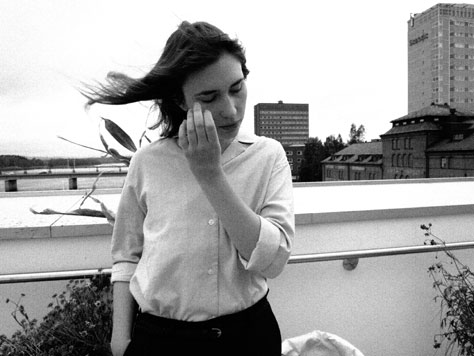 Ellinor Nilsson – aka De Montevert – is finally back with a new album that she treats as her debut, even though she released the acclaimed Friends & Enemies in 2012. It's a moodier, darker and more dynamic De Montevert who presents herself now – a strong female artist in a very male-oriented arena.
The new album talks about love and betrayal into the finest detail, full of raw and honest compositions with the melodies and lyrics always in the centre of attention – because De Montevert has always had the ability to explain the most complicated emotions in a crystal clear way.
This took a while. After spending almost two years trying out different studios and producers, she finally found a home with producer Kalle Johansson in a small small studio on the outskirts of Umeå in northern Sweden. The album was then recorded over two weekends – including a lot of first takes, and no looking for singles, just making a coherent album.
De Montevert's self-titled debut album was released on 2 December, preceded by the first single, Let's not run away together.
Opening the show is Manchester's own The Bear Around Your Neck, who the Quietus described as an 'oddball psych songwriter'.