We're delighted to be helping Douga launch their album The Silent Well!
Douga is a band based in Manchester, formed by multi-instrumentalist and songwriter Johnny Winbolt-Lewis. Named after a childhood nickname given to Johnny by his parents, Douga have grown from wide-eyed, exploratory experimentalists to become a BBC 6 Music-featured act, who have now created a record gripped with a gentle but firm sense of cohesion and clarity. Johnny and John Waddington share instrument duties on The Silent Well, with contributions from DBH (violin) and additional guitar and engineering work from Raúl Carreño. The group have built their album on the foundations of Johnny's love of kosmische music, through rhythmic repetition and psychedelic drones.
'The Silent Well sort of refers to this idea of a quiet, reflective person with countless thoughts and feelings about things,' explains Johnny, 'in contrast to being loud and attention seeking, in some respects. I respect songwriters who communicate their observations, in terms of what's going on around outside and inside their zone.'
Winbolt-Lewis cites artists like Broadcast, Yo La Tengo and Grizzly Bear for their uses of more leftfield textures set against orthodox melodies, and there is something to that in Douga's music; but, as Johnny says, 'it's about perfecting a sound that can only be identified as your own through the disparate influences you pick up along the way – acting as a magpie to what you consume.' So consume Douga's music and make some time for it among frenetic reality – it's the very least it deserves.
Main support comes from Daniel Land, who has released six albums and a series of EPs and singles across his various bands and projects. His first album under the name Daniel Land & The Modern Painters, 2009′s Love Songs For The Chemical Generation, won plaudits from Mark Radcliffe at BBC Radio 2 and Elbow's Guy Garvey, and was called 'one of the finest records of its time' by Drowned In Sound. Daniel is also a member of the dreampop supergroup Engineers, whose track Home was used as the theme for HBO's series Big Love, and who released their third album, In Praise of More, in 2010. Daniel will release a solo record, his third album of songs, in early June.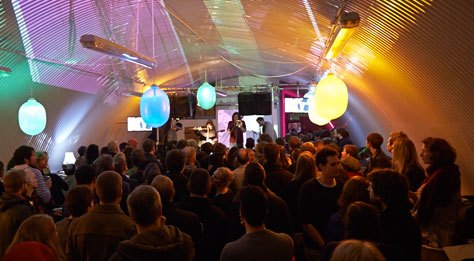 First Chop Brewing Arm is an industrial brewing unit situated in a railway arch off Trinity Way, a 10-minute walk from Deansgate. The brewery is fully licensed and will be offering a selection of its own ales on the night, as well as other refreshments. Read more about our partnership with First Chop here.
This show is a co-promotion with Grey Lantern.